HL top scorers: Can anyone catch Crowley?
March 02, 2018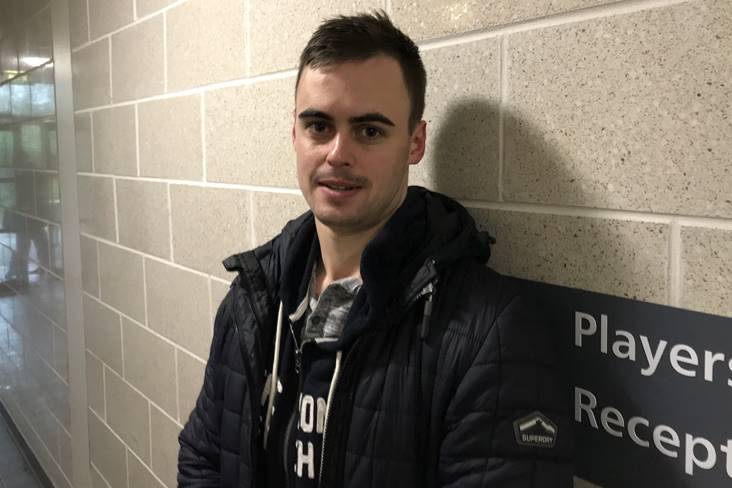 Ronan Crowley Photo credit: Larry Cooney
With Lancashire having a bye in the final round of the Allianz Hurling League, can anyone catch their marksman Ronan Crowley in the scoring charts?
Crowley has racked up an impressive 4-46 in four games but he is not done yet as the Exiles have the Division 3B final to look forward to. Division 3A shooters Damien Casey (Tyrone) and Niall Arthur (Louth) are now his nearest challengers on 2-45 and 6-32 respectively.
Niall Arthur has scored 6-32 in three games for Louth.
Arthur hit the highest individual score yet when helping himself to a whopping 4-12 against Longford and the Clare native also leads the goalscoring charts after four rounds.
Despite missing the Kilkenny clash due to his Fitzgibbon Cup exploits with UL, Tipperary's Jason Forde still leads the way in Division 1A.
Overall league top scorers:
Ronan Crowley, Lancashire 4-46 (58)
Damien Casey, Tyrone 2-45 (51)
Niall Arthur, Louth 6-32 (50)
Neil McManus, Antrim 0-45 (45)
Ross King, Laois 0-44 (44)
Daniel Glynn, Roscommon 0-44 (44)
Jack Regan, Meath 2-37 (43)
Andy O'Brien, Wicklow 2-37 (43)
Aaron Gillane, Limerick 3-33 (42)
Jason Forde, Tipperary 3-28 (37)
Division 1A
Jason Forde, Tipperary 3-28 (37)
TJ Reid, Kilkenny 1-27 (30)
Pauric Mahony, Waterford 0-30 (30)
Patrick Horgan, Cork 1-26 (29)
Lee Chin, Wexford 0-28 (28)
Peter Duggan, Clare 1-24 (27)
David Reidy, Clare 2-14 (20)
Conor Lehane, Cork 1-15 (18)
Michael Breen, Tipperary 2-11 (17)
Alan Murphy, Kilkenny 0-16 (16)
Division 1B
Neil McManus, Antrim 0-45 (45)
Ross King, Laois 0-44 (44)
Aaron Gillane, Limerick 3-33 (42)
Shane Dooley, Offaly 1-17 (20)
Donal Burke, Dublin 0-19 (19)
Conor Cooney, Galway 0-16 (16)
Joseph Cooney, Galway 2-7 (13)
Joe Bergin, Offaly 1-10 (13)
Jason Flynn, Galway 1-9 (12)
David Reidy, Limerick 0-12 (12)
Division 2A
Jack Regan, Meath 2-37 (43)
Richard Murphy, London 0-28 (28)
Martin Kavanagh, Carlow 3-18 (27)
Allan Devine, Westmeath 0-22 (22)
James Burke, Kildare 0-22 (22)
Shane Nolan, Kerry 0-17 (17)
Niall Mitchell, Westmeath 3-7 (16)
Chris Nolan, Carlow 2-10 (16)
Padraig Boyle, Kerry 1-13 (16)
Denis Murphy, Carlow 0-15 (15)
Division 2B
Andy O'Brien, Wicklow 2-37 (43)
Paul Sheehan, Down 1-26 (29)
Alan Grant, Derry 1-25 (28)
Lee Henderson, Donegal 0-26 (26)
Kenny Feeney, Mayo 1-21 (24)
Keith Higgins, Mayo 2-13 (19)
Connor McAnallen, Armagh 0-19 (19)
David Carvill, Armagh 0-16 (16)
Danny Toner, Down 3-6 (15)
Shane Boland, Mayo 0-12 (12)
Division 3A
Damien Casey, Tyrone 2-45 (51)
Niall Arthur, Louth 6-32 (50)
Daniel Glynn, Roscommon 0-44 (44)
Fergal Rafter, Monaghan 0-37 (37)
Niall McKenna, Warwickshire 1-23 (26)
Cathal Mullane, Longford 1-21 (24)
Ian Dwyer, Warwickshire 3-2 (11)
Eamon Flanagan, Roscommon 2-4 (10)
Patrick Walsh, Longford 2-4 (10)
Joe O'Brien, Longford 2-4 (10)
Mark Treanor, Monaghan 1-6 (9)
Kelvin Magee, Warwickshire 1-6 (9)
Division 3B
Ronan Crowley, Lancashire 4-46 (58)
Clement Cunniffe, Leitrim 0-19 (19)
Shea Curran, Fermanagh 0-15 (15)
Ruairi Brennan, Sligo 0-13 (13)
Martin Hawley, Lancashire 3-2 (11)
Paul Sheridan, Cavan 0-11 (11)
John Duffy, Fermanagh 1-7 (10)
Sean Keating, Cavan 0-8 (8)
Philip Brady, Cavan 2-2 (8)
Ben Murray, Leitrim 1-5 (8)
Goalscoring charts:
Niall Arthur (Louth) 6
Ronan Crowley (Lancashire) 4
Jason Forde (Tipperary) 3
Aaron Gillane (Limerick) 3
Martin Kavanagh (Carlow) 3
Niall Mitchell (Westmeath) 3
Danny Toner (Down) 3
Ian Dwyer (Warwickshire) 3
Martin Hawley (Lancashire) 3
David Dunne (Wexford) 2
David Reidy (Clare) 2
Michael Breen (Tipperary) 2
Conor Whelan (Galway) 2
Joseph Cooney (Galway) 2
Chris Nolan (Carlow) 2
James Doyle (Carlow) 2
Jack Goulding (Kerry) 2
Jack Regan (Meath) 2
Eoin McGuinness (Armagh) 2
Davin Flynn (Donegal) 2
Eoghan Sands (Down) 2
Andy O'Brien (Wicklow) 2
Anto Byrne (Wicklow) 2
Enda Donohoe (Wicklow) 2
Keith Higgins (Mayo) 2
Damien Casey (Tyrone) 2
Eamon Flanagan (Roscommon) 2
Joe O'Brien (Longford) 2
Patrick Walsh (Longford) 2
Philip Brady (Cavan) 2
Tony O'Kelly Lynch (Sligo) 2
Highest individual scores from each round:
Round 1 
Ronan Crowley (Lancashire v Fermanagh) 2-14 
Round 2
Neil McManus (Antrim v Dublin) 0-16
Round 3
Damien Casey (Tyrone v Monaghan) 2-11
Round 4
Niall Arthur (Louth v Longford) 4-12
Most Read Stories