Rebels clean up at camogie All-Stars
November 04, 2018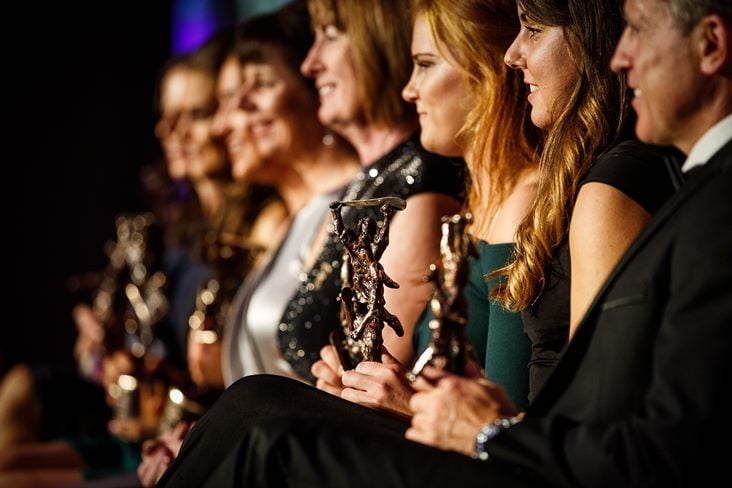 A view of the All Star award winners with their trophies at Citywest Hotel
All-Ireland champions Cork picked up seven camogie All-Stars at last night's banquet in the Citywest Hotel, Dublin.
Midfielder Gemma O'Connor won a record 11th All-Star award, while her Cork team-mates Aoife Murray, Pamela Mackey, Hannah Looney, Chloe Sigerson, Orla Cotter and Katrina Mackey were also honoured.
Beaten All-Ireland finalists Kilkenny received five awards, with Anne Dalton also collecting the coveted Player of the Year award.
Galway's Sarah Dervan claimed her fifth All-Star, with Tipperary's Cait Devane and Waterford's Beth Carton completing the selection.
Meanwhile, Cork boss Paudie Murray was named as Manager of the Year for a record third time after guiding the Rebels to All-Ireland glory at both senior and intermediate level.
Saoirse McCarthy of Cork was the Intermediate Player of the Year while Dublin's Caragh Dawson was the Junior Player of the Year.
2018 Liberty Insurance All-Stars team:
Goalkeeper: Aoife Murray (Cork) – 8th time Winner
Right Corner-Back: Grace Walsh (Kilkenny) – 1st time Winner
Full-Back: Sarah Dervan (Galway) – 5th time Winner
Left Corner-Back: Pamela Mackey (Cork) – 4th time Winner
Right Half-Back: Hannah Looney (Cork) – 1st time Winner
Centre Half-Back: Anne Dalton (Kilkenny) – 6th time Winner
Left Half-Back: Chloe Sigerson (Cork) – 1st time Winner
Midfield: Gemma O'Connor (Cork) – 11th time Winner
Midfield: Meighan Farrell (Kilkenny) – 3rd time Winner
Right Half-Forward: Orla Cotter (Cork) – 6th time Winner
Centre Half-Forward: Katie Power (Kilkenny) – 4th time Winner
Left Half-Forward: Denise Gaule (Kilkenny) – 2nd time Winner
Right Corner-Forward: Katrina Mackey (Cork) – 5th time Winner
Full-Forward: Cáit Devane (Tipperary) – 1st time Winner
Left Corner-Forward: Beth Carton (Waterford) – 1st time Winner
Most Read Stories