What they said … the weekend in quotes
April 30, 2018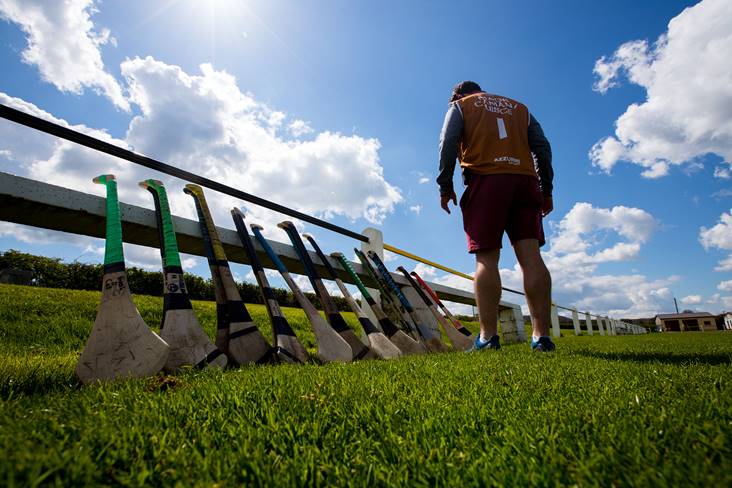 Spare hurleys are lined up before the Camogie League Division 2 final between Cork and Westmeath at St Lachtain's GAA grounds, Freshford.
©INPHO/Bryan Keane.
"The players believe we can beat Sligo and can put it up to Mayo or Galway if we face them. We haven't focused on Sligo too much, not out of a lack of respect but more out of respect for ourselves, as we want to impose our own game where previously we may have tried to prevent the opposition from playing."
The Connacht SFC gets underway this Sunday and London vice-captain Ciaran Dunne is confident they can spring a surprise on the Yeats County.
"Definitely, everyone wants to play more games and there will be less training. Training is great but after a while you can only train so much. When you look back on the amount of matches you actually play compared to when a bit younger, when there was hardly any training, back then it was just match, match, match."
Conor Lehane and the Rebel County will open the defence of their Munster SHC crown against Clare on May 20.
"Change wasn't gonna happen overnight, we're a team that has the potential and we need to reach that. Pat has brought in a structure and Anthony has brought a massive depth of hurling knowledge."
Dublin's hurlers are moving in the right direction under Pat Gilroy and Anthony Cunningham, according to defender Eoghan O'Donnell.
"Referees are genuine fellahs just like anyone else involved; the players, the reporters, the same as anyone. They don't go out of their way to do harm. I feel that there aren't enough people out there who know all the rules or understand it and it's the same with players and management. It would be nice if we did more, on the Sunday Game or on the radio, where we explained for five or ten minutes about refereeing and the rules."
Recently retired whistler Brian Gavin has called for referees to be given a right of reply when controversial incidents are dissected in the media.
"I've a wedding in June so I'm all right."
Former Mayo footballer Enda Varley kicked 1-8 for St Vincent's in their Dublin SFC clash against Na Fianna on Saturday evening but a prior engagement rules out the possibility of a return to the county colours this summer!
"It's cruel to have the four games one after the other. [If] a lad gets a serious enough injury in the first game, he's after training all year to play maybe one game and miss the rest so I think it's going to be changed for next year. I think it's a bit mad."
Offaly hurling boss Kevin Martin isn't a fan of the new Leinster SHC format.
"You would imagine they'd be two sellouts. It will be a boost for everyone in Galway, not just the hurling supporter but for the economy in Galway as well. It's been well documented since we went into Leinster that we've been looking for the home games. The county board worked really hard over the years and this year we got the breakthrough."
Micheal Donoghue and the Tribesmen will roll out the red carpet for the visits of Kilkenny and Dublin to Pearse Stadium.
"I think that's the important thing from this campaign. I think we have about 10 new players who didn't play in last year's League Final, the likes of Kate McCarthy, Siobhán Hutchinson, Kate Wall, Rachel O'Shea, Aoife Kavanagh. You're looking for a bit of strength of depth coming into the Championship."
Cork camogie manager Paudie Murray blooded new players throughout their successful Division 2 campaign.
"We haven't spoke. But the reality is that the panel is open to anyone who wants to play for Mayo and she's one of the best players in the country. We have an emphasis in place: it's about the team. It's not about the individual. Cora is a big name, but if she comes in, she'll be coming in as a team player."
There has been no contact between Mayo manager Peter Leahy and Cora Staunton about a return for the Carnacon ace.
"I think the game on Tuesday night showed the beauty of the game during it. It also showed ugly parts before it. When I heard (about the attack), I cannot describe my emotions. That should never happen, before or in the future. We all have to do everything to ensure that doesn't happen again. Nobody has a solution but it is unbelievable that something like this can happen. All our prayers are with Sean and his family."
Liverpool FC manager Jurgen Klopp sent his best wishes to former St Peter's GAA, Dunboyne chairman Sean Cox.
Most Read Stories