AFL International Cup squads announced
July 25, 2017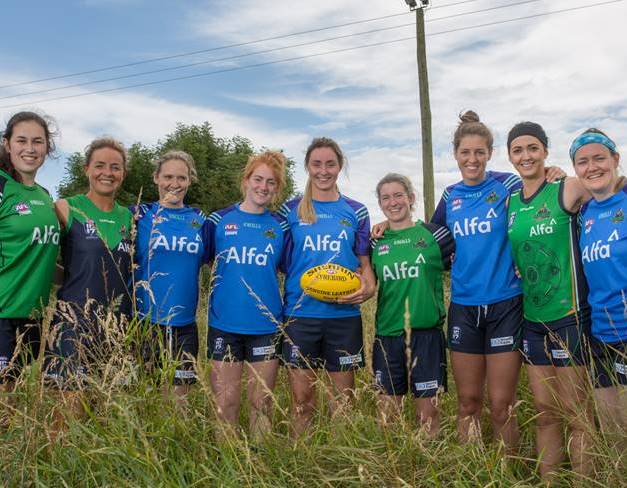 Members of the Alfa Irish Banshees
The Australian Rules Football League Of Ireland has today released the squads which will take part in the sixth edition of the AFL International Cup in Melbourne, the sports de facto World Cup.
Ireland go into the event as Second seeds in both the Mens and Womens Divisions having lost in both Grand Finals in 2014.
The mens team, the Irish Warriors have twice won the event before in 2002 and 2011 and face a difficult draw in Division 1 as they are due to meet reigning Champions Papua New Guinea, France, European Champions Great Britain and New Zealand, who have never placed outside the top 4 and were winners in 2005. Should the team be successful in the group stage they will qualify for a Grand Final at the Melbourne Cricket Ground on August 19th.
The Womens team, known as the Alfa Irish Banshees for sponsorship reasons, were winners of the inaugural edition of the event in 2011, and will be hoping to overcome Papua New Guinea, USA and a continental Europe team in order to book a place in the finals where they could meet old rivals Britain and Canada. The final of the Womens' competition takes place at Etihad Stadium in Melbourne on the evening of August 19th.
Both squads have selected the maximum allowable Australian based players under tournament rules and Melbourne Demons Women's AFL Star Laura Corrigan Duryea will co-captain the Banshees, with Onora Mulcahy from Cork, who plays her football in London for the Wandsworth Demons team. The mens team will be Captained by Antrim's David McElhone and is Coached by Brian Currane, with tournament veteran Mick Finn acting as Player/Assistant Coach. 
Both teams will wear a special change strip in the competition honouring the memory of the late great Jim Stynes, who died tragically five years ago. Jim's younger brother David has played in both Ireland's winning teams in the mens division in the past and will be involved again in the backroom team. 
The AFL International Cup is contested every three years in Melbourne, Australia by the best Australian Football National Teams outside of Australia. The Irish teams depart for Melbourne on Saturday next, July 29th and play their first games on Sunday August 6th. If you would like to arrange to speak to individuals in either team prior to departure please feel free to get in touch.
The full list of players is below with their respective counties and clubs.
Irish Warriors 
1. Muiris Bartley (Cork) - Leeside Lions
2. Patrick Brennan (Derry) - UTS Bats,Sydney
3. Brendan Browne (Kerry) - UTS Bats, Sydney
4. Liam Burns (Dublin) - South Dublin Swans
5. Ciaran Caffrey (Dublin) - South Dublin Swans
6. Oisin Collins (Cork) - Leeside Lions
7. Murtagh Condron (Laois) - South Dublin Swans
8. Ronan Cull (Dublin) - South Dublin Swans
9. Michael Finn (Kerry) - Heidelberg, Melbourne
10. Domhnall Fogarty - Powerhouse, Melbourne
11. Dominic Joyce (Galway) - Leeside Lions
12. Brendan Kelly (Antrim) - Belfast Redbacks
13. Tim Kenneally (Cork) - Powerhouse, Melbourne
14. Darragh Leonard (Cork) - Powerhouse, Melbourne
15. Colin Lordan (Limerick) - Leeside Lions
16. Padraig Lucey (Kerry) - Newtown, Geelong
17. David McElhone (Antrim) - Belfast Redbacks
18. Robert McElhone (Antrim) - Yeppoon, Queensland
20. Paul Murphy (Cork) - Leeside Lions
21. Gavin Murray (Wicklow) - South Dublin Swans
23. Barry Murray - Powerhouse, Melbourne
24. Declan Nannery (Westmeath) - Powerhouse, Melbourne
25. Padraic O' Connell (Cork) - Leeside Lions
26. Fiachra O Deasmhunaigh (Cork) - Powerhouse, Melbourne
27. Paul O' Halloran (Carlow) - South Dublin Swans
28. Shane O'Sullivan (Kerry) - UCC Bombers
29. Mark Tubridy (Clare) - Karratha, Western Australia
30. Gerard Walls (Antrim) - Belfast Redbacks
Head Coach - Brian Currane (Clare)
Asst Coaches - Michael Finn (Kerry), David Stynes (Dublin)
Team Trainer - Dean Ryan (Kildare)
Team Manager - Michael Currane (Clare)
Tour Manager - Paul Ryan
Alfa Irish Banshees
1. Claire Donnelly (Tyrone) - Ulster Kookaburras
2. Amanda Maginn (Down) - Ulster Kookaburras
3. Rachel McGee (Donegal) - Ulster Kookaburras
4. Sarah O' Donovan (Cork) - UCC Crusaders
5. Laura Flannery (Kerry) - Dublin Angels
6. Emma Kelly (Derry) - Ulster Kookaburras
7. Fiona Roarty (Donegal) - Ulster Kookaburras
8. Carolann Cassidy (Donegal) - Ulster Kookaburras
9. Olivia McCann (Armagh) - Ulster Kookaburras
10. Onora Mulcahy (Cork) - Wandsworth Demons, London
11. Laura Corrigan Duryea (Cavan) - Melbourne FC
12. Carol Breen (Waterford) - UTS Shamrocks, Sydney
13. Niamh Hainsworth (Dublin) - UTS Shamrocks, Sydney
14. Linda Connolly (Mayo) - Wandsworth Demons, London
15. Clara Fitzpatrick (Down) - Diamond Creek, Melbourne
16. Megan Creegan (Longford) - Sydney University
17.  Molly Cullen (Wicklow) - Dublin Angels
18. Marie Keating (Limerick) - UCC Crusaders
19. Aisling Gillespie (Donegal) - Ulster Kookaburras
20. Rachel Fox (Sligo) - Pert Angels, Western Australia
21. Sandra Ryan (Tipperary) - UTS Shamrocks, Sydney
22. Colleen Quinn (Tyrone) - Ulster Kookaburras
23. Gillian Behan (Kildare) - UTS Shamrocks, Sydney
24. Emma Treanor (Galway) - UTS Shamrocks, Sydney 
25. Maebh Moriarty (Armagh) - UTS Shamrocks, Sydney
26. Leona Russell (Donegal) - Ulster Kookaburras
  28. Mine Higgins (Galway) - Galway Magpies
  29. Deborah Geraghty (Dublin) - UTS Shamrocks, Sydney
  30. Christine McCutcheon (Cavan) - UTS Shamrocks, Sydney
Coaches: Tom Madigan, Roger Clarke, Brendan Kelly (Antrim)
Team Manager: Pat Leavy (Westmeath)
Tour Manager: Paul Ryan
Most Read Stories