Cooper can't interpret Sergio Ramos comparisons
October 11, 2018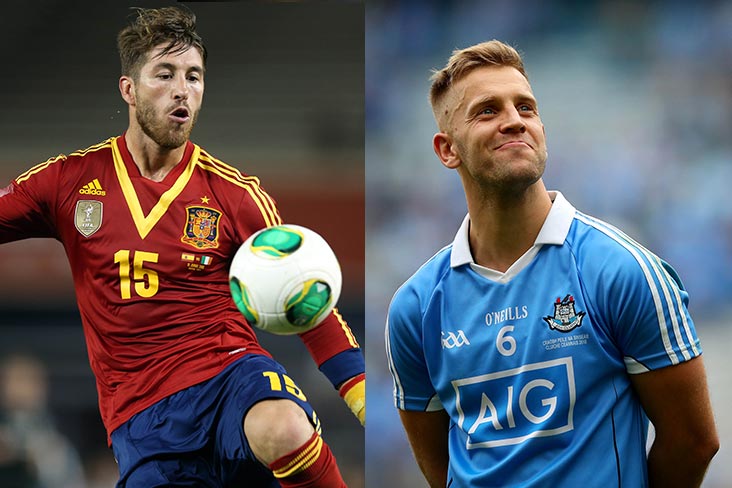 Sergio Ramos and Jonny Cooper
Dublin defender Jonny Cooper says he finds it difficult to interpret comparisons between himself and Real Madrid star Sergio Ramos.
Cooper has been a central figure in his five All-Ireland SFC successes with Dublin to date and his playing style saw him recently dubbed 'Johnny Ramos' by former Tyrone forward Owen Mulligan, who admitted he was a massive fan of the Na Fianna clubman.
"It's probably a bad thing in some people's eyes," Cooper is quoted saying by Sky Sports. "Some people have interpreted - I don't know much about soccer - but he (Ramos) has a split fan-base I guess. Some people like him and some people don't.
"That's maybe the same for me. Maybe it is a compliment, I don't know what way it was intended. It's hard to know what way to interpret it.
"I just do what I need to do whether that's defensively or protecting Stephen (Cluxton) or Evan (Comerford) or one of the goalkeepers behind me. I just do what I feel is right at the time, I don't intentionally go to get yellows or anything like that, but sometimes cases will arise that situation just happens.
"I try as best I can to practise the correct technique and tackle and everything else, but sometimes it doesn't work out like that. I've said it loads of times before, I play my best stuff on the edge. Sometimes I misread a situation and misjudge it and consequences happen after that."
There are fifteen county finals taking place this weekend with ten of those in football. Join our match tracker on Sunday afternoon for live updates from around the county grounds.
Most Read Stories