Electric Ireland Rising Stars announced
April 17, 2018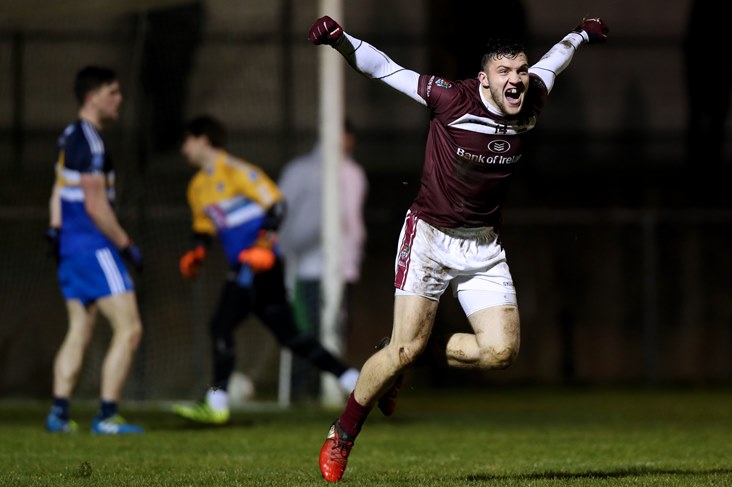 Damien Comer celebrates his goal for NUIG against DIT
Higher Education GAA has announced the names of exciting young talents in Gaelic Games who make up the Electric Ireland HE GAA Rising Stars in football and hurling for 2018.
These awards acknowledge outstanding performances in the battle for the third level football and hurling championships and come at the end of what was another epic season of third level GAA action.
Electric Ireland Fitzgibbon Cup hurling champions UL were a class apart in 2018. They dominate the final 15 with no fewer than seven young heroes chosen on a star-studded selection that has a representation from across five teams and includes names already well-known at inter-county level such as Dublin's Eoghan O'Donnell, Waterford's Colin Dunford, and Tipp duo Jason Forde and John McGrath.
The battle for the Electric Ireland Sigerson Cup was also a close fought affair and again there are five third level institutions contributing star players with UCD (5) and NUIG (4) the dominant presence.
Kerry's Jack Barry and Galway's Damien Comer feature and were also busy this spring at senior inter-county level. Another name to watch is Andrew McGowan from Kilmacud Crokes and DIT who was part of the Dublin panel that beat Galway in this year's Allianz football league final.
Congratulating the winners, Uachtarán CLG John Horan said: "Over the last number of years it has become a real statement of intent from young players involved at third level football and hurling championships that the form they show here is a sign of things to come at inter-county level.
"Indeed, many of those chosen here have already embarked on senior inter-county careers and are making headlines. I've no doubt more of these names will follow them in the years to come.
"We are delighted that our third-level institutions, which are rated so highly all over the world for the calibre of young people they help to mould, are so committed to the promotion and playing of our Games and we appreciate that support.
"The Higher Education competitions produce games of the highest quality and these awards carry a major standing as a result.
"Our thanks to Electric Ireland for their support and we look forward to watching these young heroes continue to develop their talents at club and county level."
Electric Ireland, Jim Dollard, Executive Director, Electric Ireland said: "We in Electric Ireland have been delighted to extend our GAA sponsorship portfolio this year to include the Higher Education Leagues and Championships.  For those involved in sport at third level, representing their college is special and it is the Higher Education Leagues and Championships that provide this sporting opportunity.
"Electric Ireland wished to bring to the fore through the First Class Rivals campaign, the unique aspect of the Championships which sees rivals at County level, coming together in College with one goal - to win the highly coveted Fitzgibbon or Sigerson trophies. Through our campaign we sought to raise the profile of these wonderful competitions, celebrate the meaning and the emotion attached to the games.
"The Electric Ireland HE GAA Rising Star Awards offer a fantastic opportunity to recognise exceptionally talented players across the country for their enviable dedication to their sport but also to their third level institution.
"Electric Ireland wishes to congratulate not only the Hurling and Football Teams of the Year but also the 7,000 students who took part in the Championships, making it a huge success and a thrill to follow."
Electric Ireland HE GAA Rising Stars Hurling Team 2018
1.    David McCarthy (UL)
2.    Conor Cleary (UL)
3.    Eoghan O'Donnell (DCU DE)
4.    Seán Finn (UL)
5.    Gearóid Hegarty (UL)
6.    Brian Hogan (Maynooth University)
7.    David Fitzgerald (UL)
8.    Colin Dunford (Carlow IT)
9.    Joe O'Connor (DCU DE)
10.    John Donnelly (DCU DE)
11.    Martin Kavanagh (Carlow IT)
12.    Donal Burke (DCU DE)
13.    Niall O'Brien (DIT)
14.    Jason Forde (UL)
15.    John McGrath (UL)
Electric Ireland HE GAA Rising Stars Football Team 2018
1.Tadhg O'Malley (NUIG)
2. Andrew Mc Gowan (DIT)
3. Brian Power (DIT)
4. Sean Mulkerrin (NUIG)
5. Conor Mullally (UCD)
6. Gareth Mc Kinless (UU)
7. Michael Mc Kernan (UU)
8. Jack Barry (UCD)
9. Liam Casey (UCD)
10. Enda Tierney (NUIG)
11. Conor Mc Carthy (UCD)
12. Liam Carey (Mary Immaculate College)
13. Mark Bradley (UU)
14. Damien Comer (NUIG)
15. Evan O'Carroll (UCD)
Most Read Stories