Congress: Forde-Fitzgerald clash results in rule change
February 24, 2018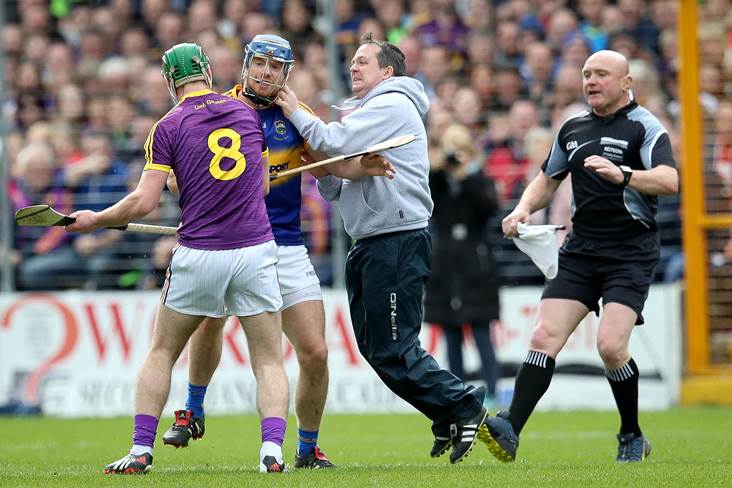 Wexford manager Davy Fitzgerald and Aidan Nolan clash with Jason Forde of Tipperary.
©INPHO/Ryan Byrne.
Last year's exchange between Tipperary's Jason Forde and Wexford manager Davy Fitzgerald during the Allianz League Hurling semi-final has resulted in a rule change at annual Congress.
A two-match ban was proposed for Forde for 'contributing to a melee' before it was later reduced to one. Many in the GAA felt the initial sanction was harsh and delegates acted accordingly by voting 93 per cent in favour of a one-match ban for minor physical interference with an opposing team official.
A motion proposing that the deadline for players to be sanctioned to play in the US, Canada and Australasia be brought forward from July 1 to June 15 was defeated with 61 per cent voting against it, but a motion to prevent match officials from wearing sponsorship on their game was passed (72 per cent were in favour) due to the logistical challenges of producing different kits for different competitions.
Meanwhile, the penalty for counties failing to fulfil a championship fixture was reduced from a 48-week suspension to a fine. A whopping 95 per cent agreed that the existing penalty which dates from 1945 was too severe.
Most Read Stories